Shepherd, poet and soldier
Hedd Wyn or Ellis Humphrey Evans is one of Wales' best-known Welsh-language poets. He is most popularly known for his nom de plume, Hedd Wyn (literal translation 'Blessed Peace').
Who was Hedd Wyn?
Hedd Wyn (real name: Ellis Humphrey Evans) was born on January 13, 1887. He was the first of eleven children born to Evan and Mary Evans. The family moved to Yr Ysgwrn in the spring of 1887.
Hedd Wyn was a Welsh-language poet and shepherd. He led a typical 19th-century rural Welsh life in Trawsfynydd where religion, agriculture and Eisteddfodau were inherent parts of society.
Hedd Wyn and the First World War
As a Christian pacifist, Hedd Wyn did not enlist during the first half of the war. The conflict caused deep divisions within the Welsh nonconformist community between those who backed military action and those who took a pacifist stance on religious grounds.
Additionally, the work of farming families was considered a reserved occupation. Ensuring the country had sufficient food for its population during the war was of vital importance. Farming sons were exempt from joining the war efforts.
However, by 1916, conscription was introduced, making it compulsory for medically-fit men of a certain age to serve. As a farming family, the Evans' were only asked to send one of their sons. At the age of 29, Hedd Wyn volunteered—sparing his younger brother, Robert.
In February 1917, Hedd Wyn joined the Royal Welsh Fusiliers at Litherland Training Camp in Liverpool. His time at the training camp was short-lived as, by March of that year, the government called on farm workers to return to their farms to support the ploughing efforts. Hedd Wyn, amongst many other soldiers, was given temporary leave. It was during this time he wrote his chair-winning poem, 'Yr Arwr' (The Hero).
By July 1917, he was on his way back to the front. He posted his entry for the National Eisteddfod from a village in France. By the end of the month, his regiment had reached Ypres and engaged in the Battle of Passchendaele. Within the first few hours of conflict, Hedd Wyn was fatally wounded.
The First World War claimed more than 16 million lives, both soldiers and civilians. Hedd Wyn (real name Ellis Humphrey Evans) is buried at Artillery Wood Commonwealth War Graves Cemetry in Belgium.
Hedd Wyn and Y Gadair Ddu (The Black Chair)
By 1916, Hedd Wyn had become an accomplished poet, competing both on a local and national level. He had already adopted his bardic name, the Welsh equivalent of a nom de plume, Hedd Wyn and had placed second at the chair competition in the Aberystwyth National Eisteddfod.
He continued to write despite his involvement in the war. In July 1917, while on the way to the frontlines in Belgium, Hedd Wyn posted his entry to the Penbedw National Eisteddfod from a small village in the north of France. He signed the work under a different nom de plume, Fleur De Lys. By the end of that same month, he had been fatally wounded at the Battle of Passchendaele.
The Penbedw National Eisteddfod was held in September of that same year.  At Eisteddfod chairing ceremonies, the Archdruid requests that the successful bard, who would be present in the audience, stand on their feet—revealing their identity.
This year, however, despite the Archdruid's request, all members of the audience remained seated. It was at this point that the Archdruid revealed Fleur De Lys as Ellis Humphrey Evans (Hedd Wyn) of Trawsfynydd, who was tragically killed in the war just six weeks before.
The chair was draped in black, giving it the name 'Y Gadair Ddu' (The Black Chair), and was moved to Hedd Wyn' family home, Yr Ysgwrn.
Hedd Wyn and his story became a symbol of the countless young lives lost during the war.
Education and Work
Hedd Wyn' education revolved around the local primary school and Sunday school. Like many young people at the time, he had left education by the age of 14 to work on the family farm.
He was well-known within the community for his natural talent for poetry. Through his own inquisitiveness, he gained a good knowledge of both Welsh and English poetry. He was influenced by Romantic poetry, particularly the work of Percy Bysshe Shelley.
Hedd Wyn' work often drew inspiration from religion and nature. His poem 'Eryri' is an ode to Snowdonia, while his work titled 'Ystrad Fflur' is written in honour of the Strata Florida, the medieval Cistercian abbey ruins in Ceredigion.
The war also inspired a significant amount of work from Hedd Wyn. Poems such as Plant Trawsfynydd (Children of Trawsfynydd), Y Blotyn Du (The Black Dot) and Rhyfel (War) are among his most famed accomplishments.
Hedd Wyn won his first bardic chair in a local Eisteddfod at the age of 20. By the age of 26, he began to find fame for his work, winning chairs at local Eisteddfodau in Llanuwchllyn and Pontardawe as well as competing on a national level. His poem 'Ystrad Fflur' came second place at the Aberystwyth National Eisteddfod in 1916.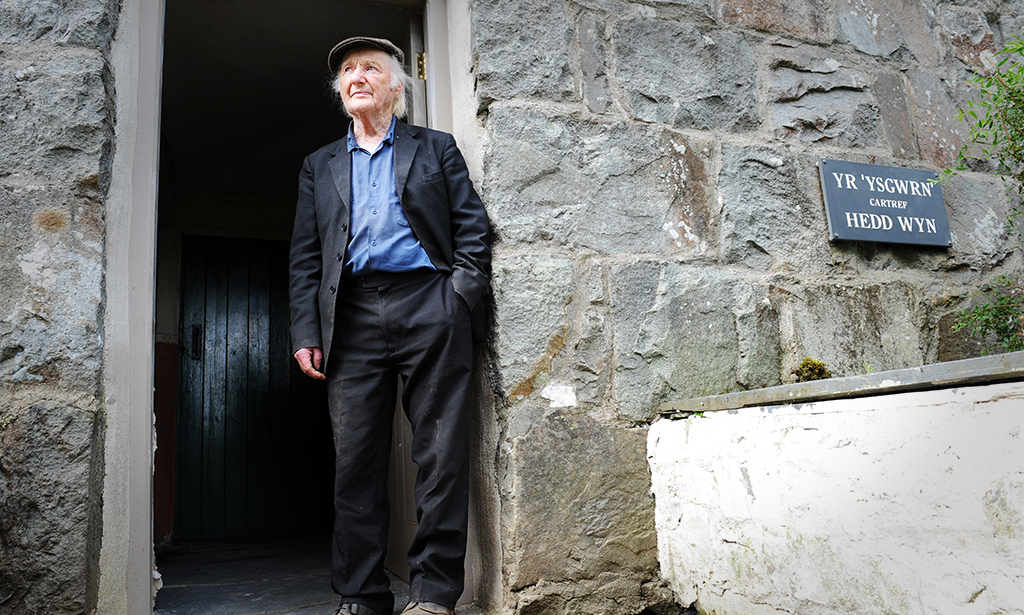 Gerald Williams
Farmer and nephew to Hedd Wyn who took custodianship of Yr Ysgwrn for many years.
Gerald Williams